Discover the Past at the Grand Rapids Public Library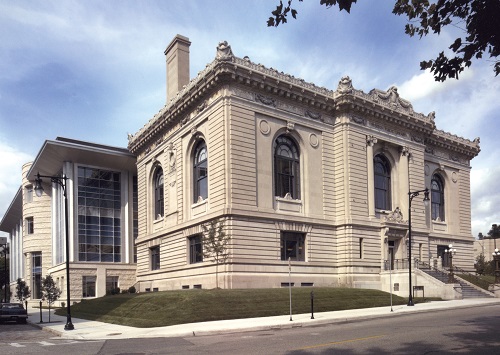 The Grand Rapids Public Library is a living testament to the city's changing and dynamic history. The library's 140 years of history are adeptly articulated by the Main Library's lobby. The lobby restoration was funded by the Grand Rapids Public Library Foundation through a grant from the Sligh Memorial Fund, a Donor Advised Fund of the Grand Rapids Community Foundation.
Both the Foundation and the public library are committed to preserving history for the education and enjoyment of current and future generations.
The following funds contribute historical artifacts and documents to the library:
The Helen E. Conger Fund was established to "purchase and maintain books [connected to]...the history of Grand Rapids, Kent County, the State of Michigan; the American Indians of Michigan...[and] Lake Michigan."
The Lewis Stuart Fund was created for the purchase of materials related to American history with a focus on local history, Michigan history and the the old Northwest Territory.
The Ladies Literary Club Fund documents and indexes the history and traditions of their club.
The Nokomis Foundation Legacy Fund provides insight into the fascinating history of Michigan women. Often overlooked, women have played significant, historical roles in the Grand Rapids area and wider Michigan. This fund also provides books with a focus on women's studies.
The Cutler-Nordmark Memorial Fund provides interesting and important works of literature to the Grand Rapids Public Library's rare books collection.
Keep our city's fascinating history alive. Click here to donate!